Featured by Scholastic Administrator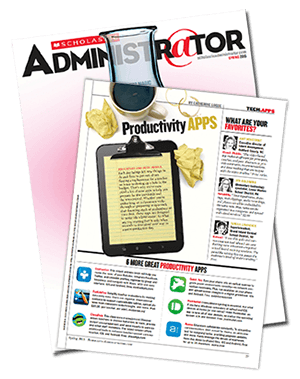 EvaluWise
®

Named a Top Productivity App by Scholastic Administrator Magazine


Scholastic Magazine's Spring 2015 edition has selected EvaluWise® as one of 9 top productivity apps for Administrators! EvaluWise® was the only Teacher Evaluation app selected.
---
PRESS RELEASE
---
EvaluWise

®

Selected as a Top Productivity Software App 

by Scholastic Administrator Magazine
Joliet, IL - April 16, 2015 - EvaluWise®, the fastest growing teacher evaluation software and tablet app has been selected by Scholastic Administrator in their Spring 2015 issues as one of the top 9 software apps for the school administrators.
This year's Top Productivity Apps included 9 apps. EvaluWise® was the only teacher evaluation software selected.
"This selection shows the growing awareness and appreciation of the tremendous productivity value EvaluWise® provides to administrators," said Jay Linksman, Executive Director of Vista Learning, NFP. "Users report that EvaluWise® saves them 2-3 hours per evaluation, helps them and teachers focus on improving instruction, and for those districts incorporating student growth as part of teacher evaluation, EvaluWise® simplifies the process and saves countless hours of paperwork and calculations." 
"New features are being continuously added to the software and apps as users find new ways to improve productivity, save time, and use the data to improve instructional practices," said Steven Scranton, Chief of Programming for EvaluWise®.
Joel Rogers, Senior Manager at EvaluWise® said, "The software and app were designed for busy administrators who shoulder so many responsibilities. We hear from hundreds of schools around the country that EvaluWise® is making their lives easier. The fact that we save districts money while helping educators is very gratifying. We are thrilled that EvaluWise® has been recognized and honored as one of the top productivity apps for administrators."
---
ABOUT VISTA LEARNING, NFP
Vista Learning, NFP is an educational non-profit organization led by educators whose goal is to provide educators and students with tools and resources to improve education. "Computers to Kids in Need" is one of Vista Learning's signature programs, refurbishing and gifting computers to children in need who are recommended by teachers and administrators. EvaluWise®, the teacher evaluation software with free apps for iOS and Android tablets, provides administrators with the most full-featured, practical teacher evaluation tools, offered at the most affordable price available.